Assistant Professor Howard M. Salis
Primary Links
Research Summary
Synthetic Biology
Genetic compilers
Metabolic Engineering
Research in the Salis laboratory focuses on the development of rational design methods for engineering synthetic biological systems - metabolic pathways, genetic circuits, and genomes. Our goal is to make engineering biology as reliable as building planes, trains, and automobiles. We develop kinetic and thermodynamic models of genetic regulation and test their predictions in industrially and medically useful microorganisms to gain a quantitative understanding of genetic function.
The models are combined with optimization algorithms to create a design method that predictably interconverts between a genetic systemís DNA sequence and its biological function - we call them genetic compilers. We use our methodology to program synthetic microorganisms to manufacture useful chemicals for bioenergy applications and to better understand the dynamical behavior of natural microorganisms.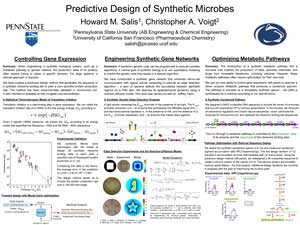 Click on this image to view a P D F of my recent research projects.
Mailing Address
c/o: Howard M. Salis
Department of Agricultural and Biological Engineering
The Pennsylvania State University
210 Agricultural Engineering Building
University Park, PA 16802-4400